This week, I would like to take the opportunity to admit to all my patients, community, or any readers of this blog that I was an addict.   I was an addict to caffeine, coffee, processed sugars from crackers and cookies, and Monster Energy Drinks. Over the span of the last 3-4 years I have been going through the stress of chiropractic school, board testing, taking care of patients everyday, and living in the gym in my free time preparing for fitness contests; therefore, the toll of this toxic adrenal and hormonal stress overload was taking a toll on my body.  Of course, I have been oblivious to the whole situation thinking I am the vision of health just because I spend 2-3 hours in a gym every day. I was so wrong.
I was actually inspired to try the program after one of my patients at Optimal Chiropractic in Crown Point, Indiana had such incredible success with the program simultaneous with chiropractic care.  My patient was able to completely change his life and having to live with pain by undergoing aggressive chiropractic treatment and nutritional support with the help of the 21 Day Purification system.  Because I have always felt I ate pretty healthy, I really was not expecting the initial impact from the system that I actually had.  After being used to tiredness & fatigued all the time with achy and stiff joints and muscle stiffness; I randomly decided that Thursday morning was going to be the day I try the system to just see what happens.  The 21-day Purification system is sold at Optimal Chiropractic as a 3 week long cleanse were you eliminate all caffeine, coffee, outside processed foods with toxicity, and meats for the first 7 days.  Everything you eat must be very fresh, clean, and not chemically modified or altered.  The first seven days are all fruits, vegetables, and the supplements provided on the cleanse that help support and detoxify the body.  Standard process is known and trusted throughout the medical community for their non-toxic, all whole foods and vegetable based products.
Day 1 & 2:  The first two days hit me like a freight train.  I spent most of them with a horrible headache in the front and base of my head.  I was extremely tired and could not concentrate due to my headache.  All I wanted to do was sleep because I could not focus with my head pain.  I quickly realized my headache and neck pain was all due to withdrawals from caffeine addiction since I had spent the last 5 years over medicating myself with caffeine through daily coffees, mid day energy drink pick me ups, and countless other caffeinated treats.  I was obviously going through needed withdrawals; however, I swore to myself if I woke up feeling like that the next day, I was going to quit the detox all together.  Surprisingly, I woke up on my 3rd day feeling fantastic! I had loads of energy, no headaches, no muscle or joint pain, and a complete change in mentality.  I went the whole day not needing coffee, sugar, or naps and I felt wonderful.  Surprisingly, my mood has not changed from days 3-7.  Where I used to crave naps or an energy drink in the middle of the day, I don't at all anymore!  I don't even crave sugars or processed carbohydrates at this point.  I am able to control my cravings, mentality, and mindset and it feels amazing!  I have found I do not even get as sore, stiff or fatigued during exercise or the days post working out, which is when the soreness would typically set in previously. I cannot wait to see what the next 14 days have in store for me! I can only imagine at the end of this that I am going to be a completely rejuvenated person that swears by the 21-Day Purification system for anyone with major or minor health concerns.  It is recommended to do a cleanse bi-annually or quarterly just to protect our bodies from the things our toxic environment and foods do to us.  Keep checking in for updates on my purification! If interested in more information on the program call us at Optimal Chiropractic at 219-661-8680 in Crown Point and speak to either myself (Dr. Ashley) or Kelly to learn more.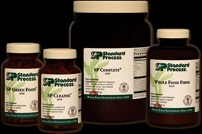 Contact Us Today or Stop on By!