Do you know someone that is scared to take the first few steps out of bed every day due to excruciating pain in the arch of their feet?  Maybe that person is you?  Did you know your chiropractic physician located locally here in Crown Point can help you relieve this pain with chiropractic adjustments and musculoskeletal treatments?  "I thought chiropractors only treated the back!"  I hear this all the time; however, some chiropractors are skilled in adjusting extremities such as hands, feet, elbows, ankles, knees, etc.  So what do we do at Optimal Chiropractic for that painful plantar fasciitis?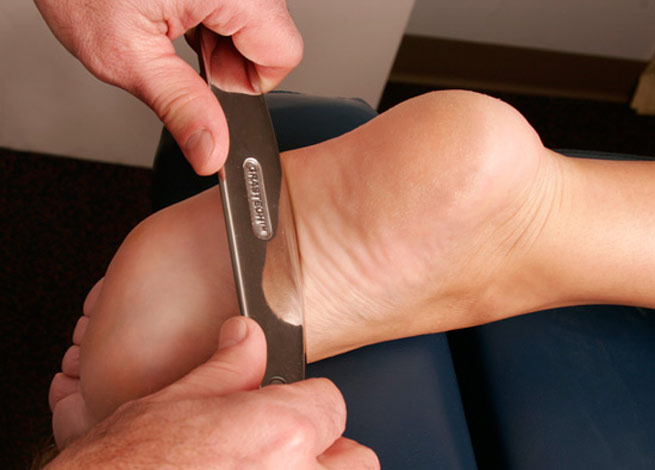 Dr. Ashley will adjust your feet, ankles, and knees if they are out of alignment.  Did you know there are 26 bones in just your foot?  Did you know your entire body is supported by these 26 bones in each foot?  These facts alone equals 26 different reasons to have your chiropractor adjust your feet!  Bones in your feet will move and compensate just like the bones in your spine; therefore, compression on the nerves in the feet and muscular tensions in diverse compartments of the feet is just as common as having compression and inflammation around joints in the spine.
What does your posture look like? Do you walk around upright? Slouched  Leaning one way or the other?  Don't you think this could possibly effect the tension placed on your feet?  Of course it does!  Good chiropractors will help you improve and maintain your posture for not only spinal health, but also the health of your feet!  You will be amazed how you can move and walk without pain by improving posture and balance.
Ashley will perform Myofascial techniques to break down adhesions in the plantar fascia. Have you ever heard of Graston Myofascial technique?  This chiropractic technique produces targeted pressure to break up adhesions in the inflamed, damaged arch, improving blood flow and encouraging the regeneration of healthy tissue.  Specialized Graston instruments are used in this technique by only trained physicians.
We will teach your stretches to keep you pain free! Did you know much of the tension that causes plantar fasciitis is produced from the gastrocnemius & soleus AKA: "the calves"? Simple stretches for these muscles will help keep the muscles loose and reduce the overall tension on the plantar surface.
We can provide you with personalized orthotics specific to your feet only! At Optimal Chiropractic, we use advanced digital scanning of our patient's feet using Foot Leveler's technology in order to get you orthotic inserts that are specific to your feet and your needs.  These orthotics can be ordered for a variety of needs from general day to day wear, very active individuals, factory or heavy duty careers, or even flip-flops.
https://www.footlevelers.com/products/custom-orthotics
Let Optimal Chiropractic in Crown Point, Indiana help you get to the source of your plantar fasciitis pain and out of pain for good.  Contact our office at 219-661-8680 or stop in at our Crown Point location at 11400 Broadway.  As always keep up to date on all our new and ongoing events and activities in the office www.crownpointchiro.com
https://www.facebook.com/pg/crownpointchiropractic/about/?ref=page_internal