Written by: BrynAlyn Evorik, Health Coach
We have all heard about the amazing benefits of Bone Broth, right? Well, if not, here they are in a nutshell:
Helps heal leaky gut
Healthy detox for gut and immune system
Improves joint health *Helps build lean muscle mass
Helps maintain healthy metabolism and healthy weight
Helps improve quality of skin, hair and nails
Bone broth contains key nutrients and minerals that are often missing from our diet, so it is often referred to as "the missing link" to good health.
Bad news: It is time consuming to make. Time is precious and in very short supply these days, I get that.
Good news: Ancient Nutrition has formulated a convenient pre­packaged mix with all the benefits of traditional bone broth and none of the work!
Bone Broth Protein by Ancient Nutrition is a powder form of mixture that comes in 4 flavors:
Pure
Turmeric
Chocolate
Vanilla
The chocolate and vanilla flavors are best used mixed with your favorite liquid base such as coconut milk, almond milk or water, or mixed in with your favorite smoothie recipe!
The Pure flavor is the lowest in sugar and carbs and can be added to almost anything! It can be added to a broth base, smoothie, yogurt or whatever you want. Because the Pure flavor is almost completely flavorless it is the most versatile.
The Turmeric flavor is best mixed with a broth base or mixed into your favorite soup.
They are all a whole food supplement and 100% natural. They are also gluten free, soy free, dairy free, nut free and grain free!
All 4 flavors are available right now at Optimal Chiropractic! Buy one 15.7 oz tub for $45.00 O R buy 2 for $80.00 and receive The Bonebroth Breakthrough book for free! That's a $10.00 savings and a bonus book full of valuable information!
Questions? Call me (219) 661­-8680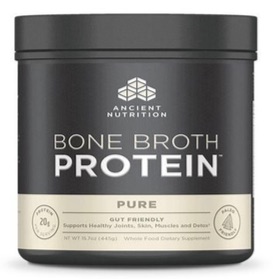 Contact Us Today or Stop on By!