Chiropractic Adjustment Frequency: How Many Times Should I See My Crown Point Chiropractor?
Author: Dr. Ashley Nelson
Chiropractic Physician at Optimal Chiropractic in Crown Point, IN 46307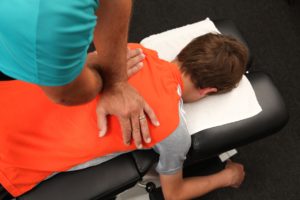 I hear these things all too many times,
1. "Once you start seeing a chiropractor, you will be locked in for life."
2. "I heard I have to come in for visits 3x/week for a whole year or it's not going to work!"
3. "I felt better after my first visit so I'm cured!"
First of all, these are all false; and if you are currently going to a chiropractor that says any version of any of these phrases, then I think it is best to have your guard up. None of these statements work for the simple fact that none of them are personalized to an individual. Do some people need to come in 3 times week?… Yes. Do they need to do this for a year?… Possibly but not typically. Can any doctor make that assumption on a first visit? No.
Visit frequency is all made on a case-by-case basis at Optimal Chiropractic in Crown Point, Indiana. It always depends on the particular patient and how they are presenting. Think of it like a medication dose. If you have a more serious "infection" than someone else; doesn't it make sense that your dosage would be increased or have to span a longer time frame? It is the same case in chiropractic. Your body has to have an effective chiropractic "dosage" in order to make the proper changes to reduce and eliminate your pain or problem.
Once your pain has been eliminated, it is important to find out your body threshold in order to hold your adjustments. In my Crown Point Chiropractic Clinic, I will start by spreading out your adjustments by a few weeks and see how your body holds up over the week or weeks that you are not being adjusted. If you are able to continually come in and feel 100% then your threshold will continually increase. Some people will hold adjustments for a week, while some can hold them for a couple months or more. It is ultimately determined by your lifestyle, overall bone health, muscle & joint strength, your ability to adapt your life to make it more favorable for your spine and nerves.
There is no cookie cutter way to treat a patient. At Optimal Chiropractic in Crown Point, Indiana; we make sure your care is personalized and specific to you. Call us today at 219-661-8680 or visit our Crown Point location to make an appointment.